Business Value,
Engineered.
Amplify your teams' skills and experience required to succeed in the Business of Software.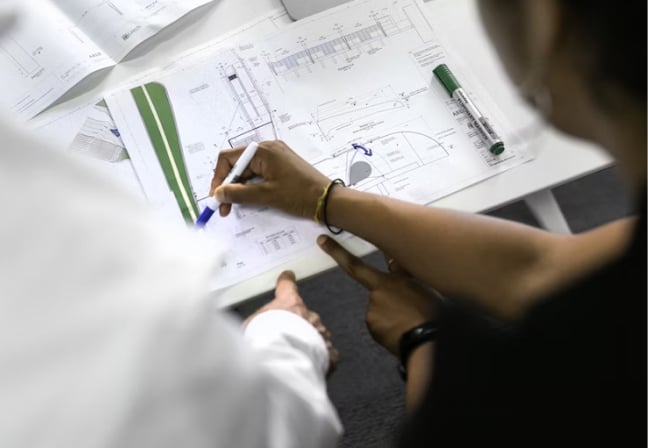 01

/

the right software
Building, and maintaining, the right software.
Product Strategy
The key to successfully developing software is to have a shared understanding of the business's needs. It's crucial to align these needs with the appropriate delivery strategy. That's why our clarity workshops are designed to help businesses achieve this goal.
Product & Platform Architecture
Upon reaching a shared understanding of the business requirements, we determine the appropriate architecture that would enable us to achieve our strategic objectives. It is important to note that the quality of the code is just one piece of the puzzle.
Product Design
Our design philosophy goes beyond aesthetics at feature[23] to create the right User Experience. Our design process strategically meets the needs of the business, users, and technology, providing executives with the power to visualize new ideas and capabilities.
Product Development
Modern software development involves more than just code. It is crucial to achieve business objectives while adjusting to new data and adhering to time and financial constraints. Our teams employ a delivery system to guide you through this process without requiring your teams to have extensive knowledge of scrum or kanban.
Product Maintenance & Support
Our experts are here to help you keep your software in top shape. We can optimize it to mitigate technical debt, software decay, and emerging vulnerabilities. Just like with your car, regular maintenance is key to extending the life of your product. Trust us to keep your software running smoothly.
02

/

the right program
Improving the efficacy of your software development program.
Offshore Delivery
As your software portfolio becomes larger and more complex, it can become difficult and costly to maintain. Our team can assist you in reducing costs while maintaining a high level of quality in your program. Our remote teams are trained to follow the feature process and produce the same level of quality and certainty that you expect.
Research & Development
In the software industry, information is the most valuable asset to any team looking to succeed, and access to valuable insights is essential for success. Our organization prioritizes Research and Development as the optimal means of acquiring such knowledge. We can help you sidestep the costs and time lost in developing an inefficient solution by leveraging it effectively. feature[23]'s approach aims to deliver the right solution and generate steady, incremental returns that validate your investment.
Talent Acquisition
Talent is vital to any successful software program. We have spent the better part of three decades building a system capable of solving this problem for ourselves. Now, we offer the same service to our clients to help them find world-class talent.
Azure Cost Containment
The Microsoft Azure platform is impressive with its ability to scale quickly and easily. However, as your portfolio expands and becomes more complex, your expenses can increase rapidly. Our team of Azure Architects can assist you in reorganizing your Azure platform, lowering your expenses, and enhancing your program's effectiveness while maintaining its business value.
DevOps & Cloud Architecture
As your cloud-based portfolio expands, cost is not the only challenge you may face. You may also need to re-organize resources and optimize pipelines to automate your program. Our experts can assist you in this process without hindering the progress of your teams or business objectives.
03

/

the right information
Management Consulting
Program & Product Assessments
Many organizations seek our assistance in evaluating the performance of their teams, specifically at the Product and Program level. Our main objective is to help these organizations pinpoint the discrepancy between their teams' abilities and the requirements of their programs. Our approach involves developing a plan to align their training, focus, and architecture to enhance their business value.
Code Audits
Our code audits are designed to provide you with a comprehensive understanding of your position regarding any customized software product. We assess the quality of the code and analyze the economic model associated with product ownership. Our team of Principal Consultants and Engineers can help you identify the essential requirements for your system to operate at its best.
Mergers & Acquisitions
When acquiring, or looking to acquire, software developed by another team or organization, it's critical to understand how to integrate it with your program and how to value the product on the market. Our teams have the experience to complete a viable assessment and execute even the most challenging of remediation schedules, helping you maximize the value of each transaction.